<!HIER KOMMT DAS SUMMARY>
Summary:


Difficult routing
Ugly nights with high waves
Da kommt mir doch die Galle hoch
Sleepless
Missing forecast-update
Watercolorchange
9 ships passed us (no sailboat)
It took longer, because out of safetyreasons we slowed down

<! --- Abkürzung zu den Bildern --- >
Größere Kartenansicht
<!HIER KOMMT DER TEXT IN DER TABELLENZELLE>

Friday, 04.04.2013, 11:00 – "Weatherforecast" - (Christian)
Die Wettervorhersage versprach moderaten Wind und relativ wenig Welle bis Sonntag abend bei Baranquilla. Der Rest sollte dann auch ok sein. Wir planen eine schnelle Reise.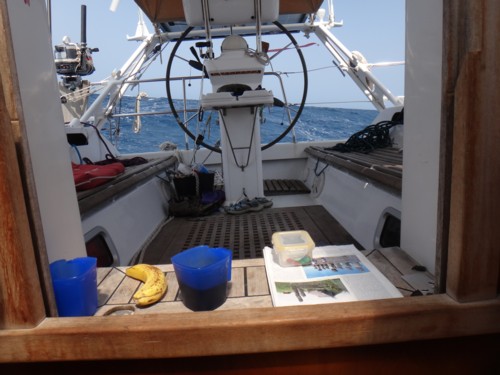 Friday, 04.04.2013, 17:00 – "The start" - (Christian)
Going in the direction of Aruba was a nice sail. Wind SE 15 knots and not much wave.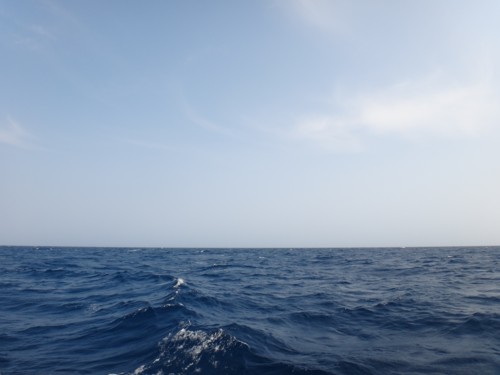 Saturday, 05.04.2013, 03:00 – "Horrible night" - (Christian)
I vomited everything out of my belly! We decided to change plans and leave Aruba on our leeside which meant going much closer to the wind E 20 knots so we got the full waves (do not know how high because it was pitch dark) and I was tired and completely worn out.
We did so because we were not too shure if between Aruba and Venezuela the waves were going much higher because the fast elevation of the ground aswell if the traffic: fishermen with nets, tankers, would be an issue to deal with.
I do not know if we choose the right option.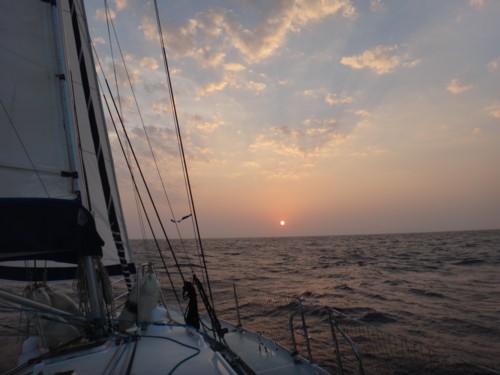 Sonntag, 05.04.2013, 19:00 – "Santa Martha" - (Christian)
After rounding Punta Gallinas the wind took a nap and we had to motor 3 hours. Then the windspeed went up to 20-25 knots NE, gusts over 30 knots near Santa Marta.
We were doing between 4 and 9 sometimes 10 knots (once i saw 15?!), depending on the way we were surfing down the waves.
We shortend sails and took down the main first, then changed from genua to jib => we only did 3 to 4 knots then but it was much much more comfortable, but we maybe loose our weatherwindow!
I was totally done, because I haven´t sleept until now => it is allways the same: I have to be nearly dead before I can sleep at the start of a passage!
I tried to get a weather update from a passing big ship and the Santa Marta Marina => No replys!
It is a pitty that our satellite telephone for getting weatherinfos is not activated. We bought a sim-card over ebay from Tina Blanco / allroadsat.com and now we got an message from the new branchmanager that our simcard might be stolen by her from the company. This sucks!
We were near Santa Martha at 04:00 and Dagmar said: "We can control it" so we decided to go further to Cartagena with reefed jib (strong boat, strong crew, weak skipper ...).

Zwischen Santa Martha und Baranquilla




Zwischen Santa Martha und Baranquilla (30MB, bessere Qualität)


Monday, 08.04.2013, 16:00 – "Baranquilla" - (Christian)
On the chocolateside of the leg from Santa Martha I slept a few hours! Very good! The choccolate side means the waves are 20 deg to our stern and it is not too rolly. We missed the right time to jib (we got to deep into the bay) so we had to go closer to the wind 110 deg before we reached Baranquilla. The waves looked like 3,5m and came nearly from the side => very rolly! Sometimes a bit of a breaking wave jumps into the cockpit.
The wind was kind of funny!?! Sometimes it howeled with 30+ knots and then died away to 18 knots for 5 minutes and increased again for 20 minutes. This sequence I experienced a couple of times in a row.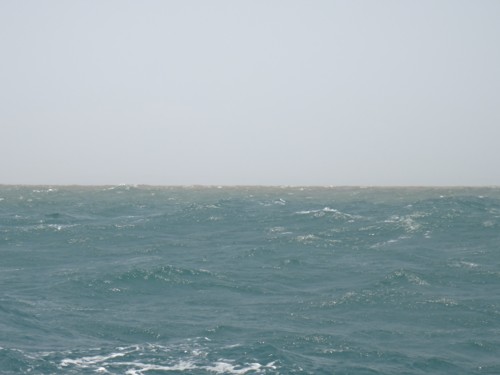 We passed Baranquilla 2 hours ago. There the color of the water changed dramatically within 50m from darkblue to brown-olive-green because of the river outflow there (the water stinks like fertilizer). Now the water tends to be greenish.

Just before the color change we got some very tall waterwalls (about 5m?). Amazingly the waves died away with the color change and the main direction of the waves changed into a bit of chaos.

We are going far offshore now to avoid a plateau coming from 1000m up to 33m which could create high breaking waves.

Just now I am glad that we did not try to stop in St. Martha. We are still only using the jib because we are doing nearly 6 knots in 20 knots winds and want to be in Cartagena not before sunrise.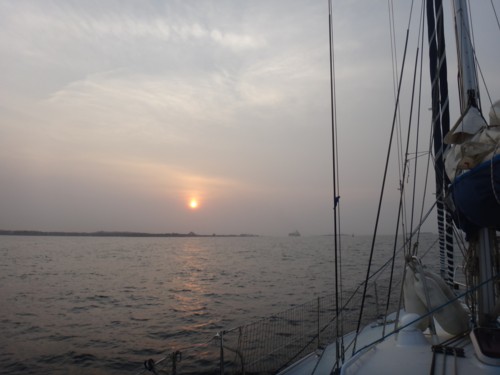 Tuesday, 09.04.2013, 08:00 – "Cartagena" - (Christian)
The night wasn´t too bad, but we are both tired now. Dagmar shortened the fock in the last few hours to reduce speed furthermore. So we reached the Boca Chica entrance into the bay at 5:45, still dark and nearly no wind, annonced us at Port Controll and entered the narrow chanel into the bay after a containerfreighter at 06:10 with the first daylight. Timing was good!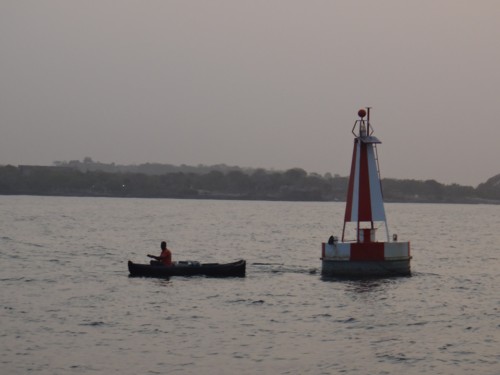 Summary:
There is more pleasent sailing elsewhere. The Atlanticcrossing was easier and the waves longer. The problem is not the wind but the power of waves, which piled up and sometimes came in quick series.
Some weathergurus say it is better to round the Cap of Columbia in a distance of 200nm, but In the whole trip we tried to stay near the coast; only at St. Martha we saw the coast.
We took into consideration: weaterforcasts (Grib files from Ugrib, Cityforecasts from Windguru and NOAA-Predictions), tides, mountains above sealevel, mountains and shelf below the sealevel, rivers entering the sea.
On the trip we only saw 8 freighters and one cruiseship passing by.
We did many jibes, because we do not like to do dead downwindsailing. We think it is faster with 150 deg, safer even if we often only use the foresail and more comfortable.

We are anchoring now in front of the Club Nautico in 11m with 45m chain in the water (not too much room to swing and the forecast predicts swinging).
I guess, tonight we will sleep like stones.





<!ENDE>